It has been a struggle since Porter Robinson's Second Sky to get anything done. But in a good way. Who can be annoyed at "Go Potaro" repeating in one's head over and over? Or the constant social media posts about the festival infiltrating our feeds. The weekend was dynamic yet powerful. A thesaurus doesn't have enough adjectives to properly articulate what went down in Oakland, California on September 18th and 19th. Let's dive into it:
Porter's Air to Earth
Just a few days before the festival kicked off, Porter then throws onto social media he has yet another alias, Air to Earth, that he will be debuting at Second Sky. Similar to the 2019 event, he accompanied with the announcement with some additional information that he will be opening each day with the new alias (he opened as Virtual Self back then). And it's a complete departure from Virtual Self. Luckily, he included a quick 42 second clip of the new project. It's euphoric and pretty – staying on track with Porter's direction since 2014 Worlds.
To no one's surprise, on Day 1, the line was wrapped around the outside of the stadium to enter. The excitement was palpable in the lines but it was also mixed with a feeling of anxiety. The music started playing and thankfully it could be heard even if you weren't yet up to the security check point. People were mingling and yet swaying back forth. Upon walking in, the bass was going. People ran to the merch tent to claim their spots but it was also surprising how many ran to the stage. This performance was worth skipping the line. Porter played samples from DJ Koze and threw his own Air to Earth spin on favorites "Mirror" and, of course, "Language". God damn.
Blissful Supporting Acts
Porter has been super vocal about his love for other genres and artists. Over the years, he's talked on Twitter about Avril Lavigne and more. Even during intermissions on both days, we could hear Janet Jackson's "Someone To Call My Lover" playing. The man knows his stuff! Therefore, his opening acts were bound to be incredible and surely would properly fit the aesthetic that he was trying to create for both days.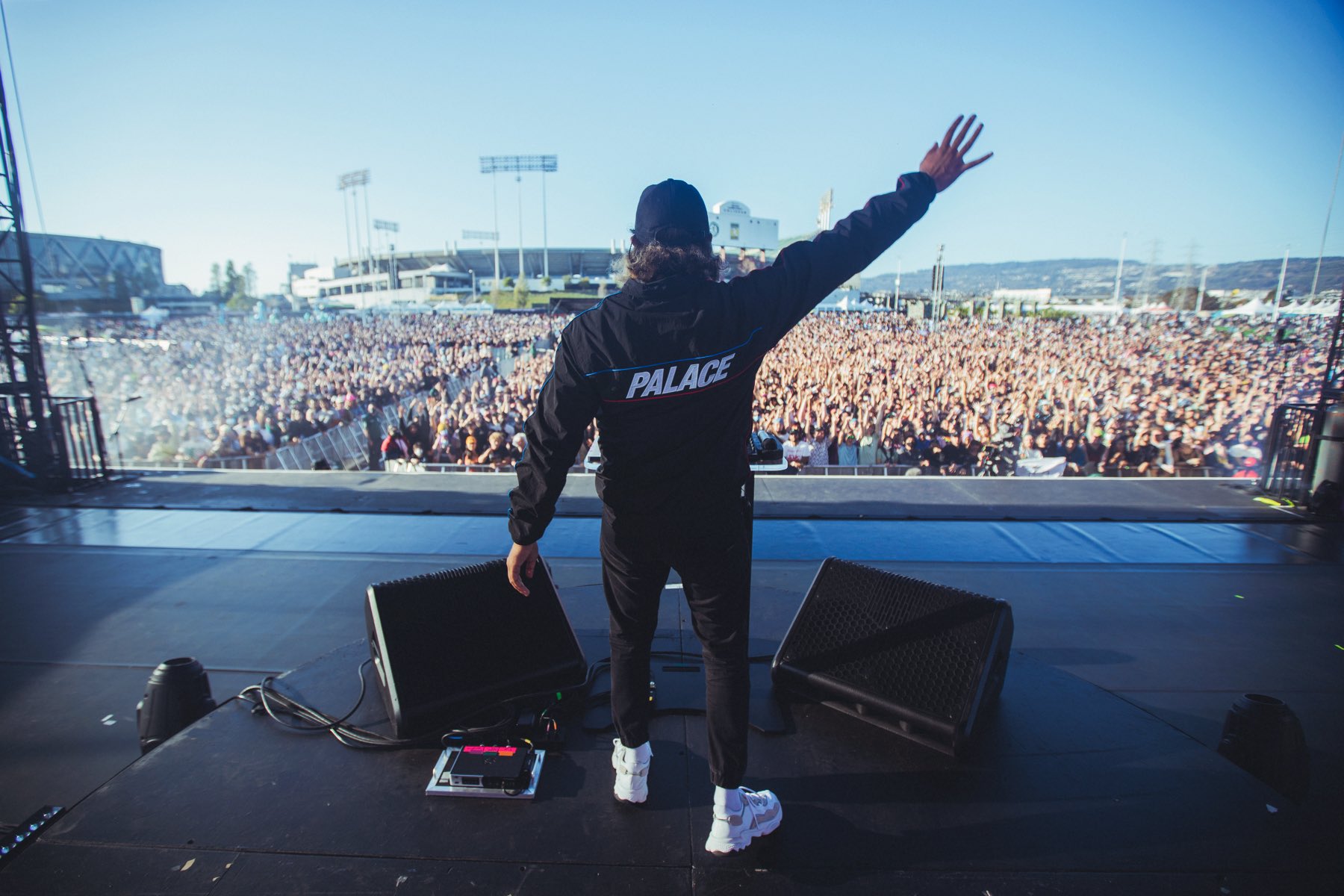 Close friends Wavedash opened right after Air to Earth. While on the first day they had some technical difficulties, they got everyone moving. The energy was insane. The three rushed off stage after their performance and hugged and jumped around for a few moments, taking it all in. KNOWER was next which is an electronic group which consists of Louis Cole and Genevieve Artadi. Their full band is a jazz-funk act that includes saxophone, bass and keyboard players. Their visuals were entertaining and both of their demeanors on stage kept everyone smiling.
Grammy winner Jacob Collier and Grammy nominated Jon Hopkins performed when the sun was high in the sky. Jon was a highlight of the entire festival. He's almost-techno beats calmed down the side-conversations in the crowd. It's almost as if people suddenly realized "holy shit. we're here and this is happening". Toro Y Moi came up just before the final two openersand his sounds infiltrated our ears. The multilingual Southern California native played an arrange of indie rock, house, techno, chill, hip hop, and techno.
Jai Wolf began as the sun started to set. He opened right away with a special rendition of "Indian Summer" and "Moon Rider" shortly after that. The vibes were immaculate. He was the perfect artist to be in stage before Madeon came up with his highly anticipated set.
Madeon Enters with Good Faith Forever
On the first day, the crowd got a quick glimpse of Madeon before he came on stage for his new and longer performance of his 2019 album, Good Faith. This performance, Good Faith Forever, has been talked about for a few months before the debut. Madeon and his team have been hard at work perfectly (even more) the visuals from the GF tour. The psychedelic colors and hidden meanings keep us all looking at the stage. This time, however, he demanded all eyes be on him as he walked out. Outfitted in a smooth black button up with jeweled trousers, black wide brimmed hat, Michael Jackson-esque diamond gloves and matching jeweled cape. Everything meshed beyond well.
Immediately when Madeon began, the bass was noticeably turned up. The camera angles adjusted to help the audience view what exactly the French producer was doing up there. He posed perfectly with his background visuals and accentuated the complicated and diverse sounds that he created or added onto his pre-Adventure, Adventure, and Good Faith tracklists. "The Prince" was a huge hit. The whole performance was authoritative and compelling. He's also on a GFF tour – check it out!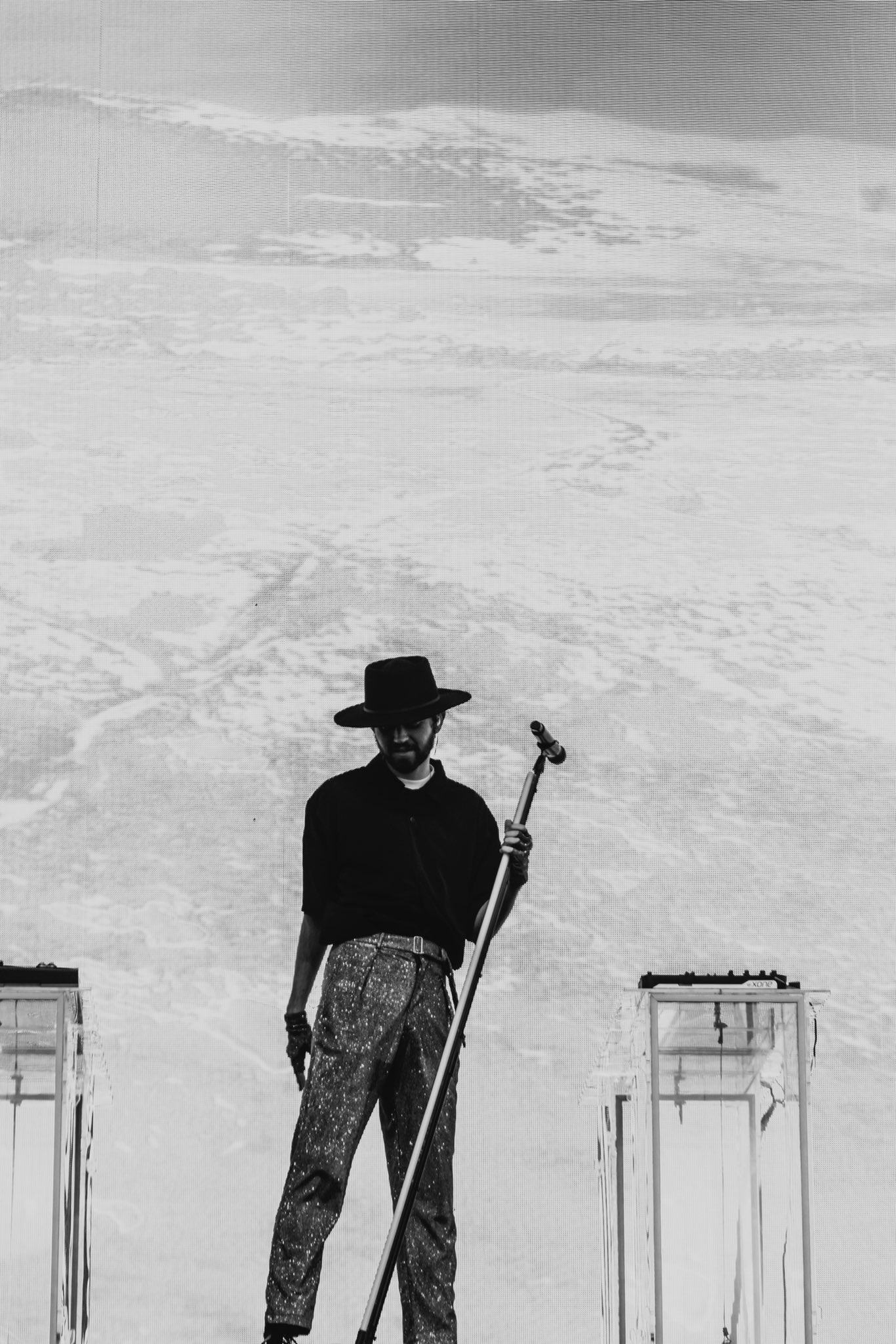 Nurture Live
The night that Nurture was released is one that not many will forget, regardless of fan-status or not. 12AM EST hit. It had been 7 long years since an official release from him. It was a journey and the live performance was just the same. The beyond-floor to ceiling LED screen that was teased on social media was even more impressive in person. The sound stage was double the size from 2019. Porter came out swinging. Beginning with a mix of "Wind Tempos" and "Lifelike", he went over to "Look at the Sky" and "Shelter". Worlds made an appearance for a split second when he teased the crowd with his launchpad and played "Divinity" and "Flicker". But for an hour and thirty minutes, it was all Nurture.
It was all performed in a spectacular fashion. The hull Harvest moon was high in the sky for both evenings. The firework display perfectly coincided with the order of the songs. Also, similar to Madeon, Porter was on the microphone significantly more than he ever has in the past and the work that he's put in to perfecting his voice is noticeable.
There were many little details that also stuck out during the show. He incorporated his family into the intros for some of the Nurture songs. His parents even wore "I'm Porter's Mom" and "I"m Porter's Dad" shirts as they helped raise money for the Robinson Malawi Fund! He dedicated "Blossom" for Rika, his longtime girlfriend, who mingled with so many fans in the crowd throughout both days. It's hard to refrain from giving a full recap of the new live show. But, it's a must see! Tour information here! He's already on the go!
Once-in-a-Lifetime Afters
Just days before the start of the festival, The Midway, a venue over on the San Francisco side of the Bay Area, announced that it would be hosting a special Madeon performance after Day 1 of the festival. It sold out almost immediately. The venue allowed enough time for those to run over from the festival and with an easy dress code; it was such a smooth process. Knower opened for Hugo and it was energetic! The night went by so quickly. Maybe it was the warehouse vibes or the sweaty and full-of-life crowd, but all of a sudden it was 2AM. He played his favorites from Daft Punk and Justice along with some of his tracks from his debut album, Adventure. It was chilly outside when the show was done but that was necessary to cool down and help take in what just happened.
The following night, The Midway also hosted another after. Porter brought Air to Earth to the same venue along with some special guests. Attendees arrived to KEPIK playing beautiful tracks from Gareth Emery and more. The San Francisco-native was a great choice for next performers. Second Sky openers Wavedash came out with Porter's brother, Mark Robinson, and James Ivy all came out. Chet Porter was running around the festival and after shows as well! That's the power of Porter; he brings out the best fans, teams, and colleagues. Wavedash had as many as 9 up on stage. They were all enjoying every minute of their time on stage. After playing some 80s classics and some Knife Party, Air to Earth took the stage.
The venue wasn't as full as it was for Madeon the previous night. But that made it incredibly more unique and inspiring. Many in the crowd were trying to ID each track that Porter played and transitioned to. He played a range of tracks. He threw in a Will Clarke song along with Arty, Ferrick Dawn, Ben Bohmer, and Game Boy. It was fascinating. While the next steps for Air to Earth is uncertain for the time being, it's going to catch on very easily. Everyone screamed the words to "Mirror" when it played again. Despite it being Porter's 5th performance in two days, his passion for the new project was convey quite easily. The future for this project is looking awesome.
It's a Beautiful Day
After the venue change, many were commenting and questioning the 2-day event. With COVID happening and Starbase being canceled, it was hard to feel optimistic and certain that the event at least was going to happen. And the Bonnaroo escapade happening just before that. It was and continues to be frustrating. But Porter and his team made it happen despite the obstacles. It was relieving and refreshing. Even though the line to get in, which was a good line with die hard fans looking to embrace the upcoming 11 hours, it was a breath of fresh air walking through the gates and seeing the freshly laid down turf and the installations to go and explore. Everything about it was so welcoming. The sea of jerseys and seeing Potaro jumping around from group to group. It was hard to be aggravated at anything.
It was also hard to walk away from the stage at the end of Day 2. The fireworks that accompanied the "Get Your Wish" finale were immaculate. The tempo picked up thanks to quick transition to Anamanaguchi's take on the song. People that were leaving early to beat the exiting crowds were dancing. It was hard not to have a hand in the air and a smile on the face. Porter was encouraging the crowd to keep moving in the microphone but it wasn't even necessary. The whole weekend was like that. The whole weekend was perfect. And guess what? 2022 is basically here. While there's no dates yet for the upcoming year, it's time to start budgeting for it. Special shoutout to Shake, Monika, Kyle, and Jimmy for a weekend which I will never, ever forget. A Porsche is always a good idea.
"But don't you waste the suffering you've faced. It will serve you in due time."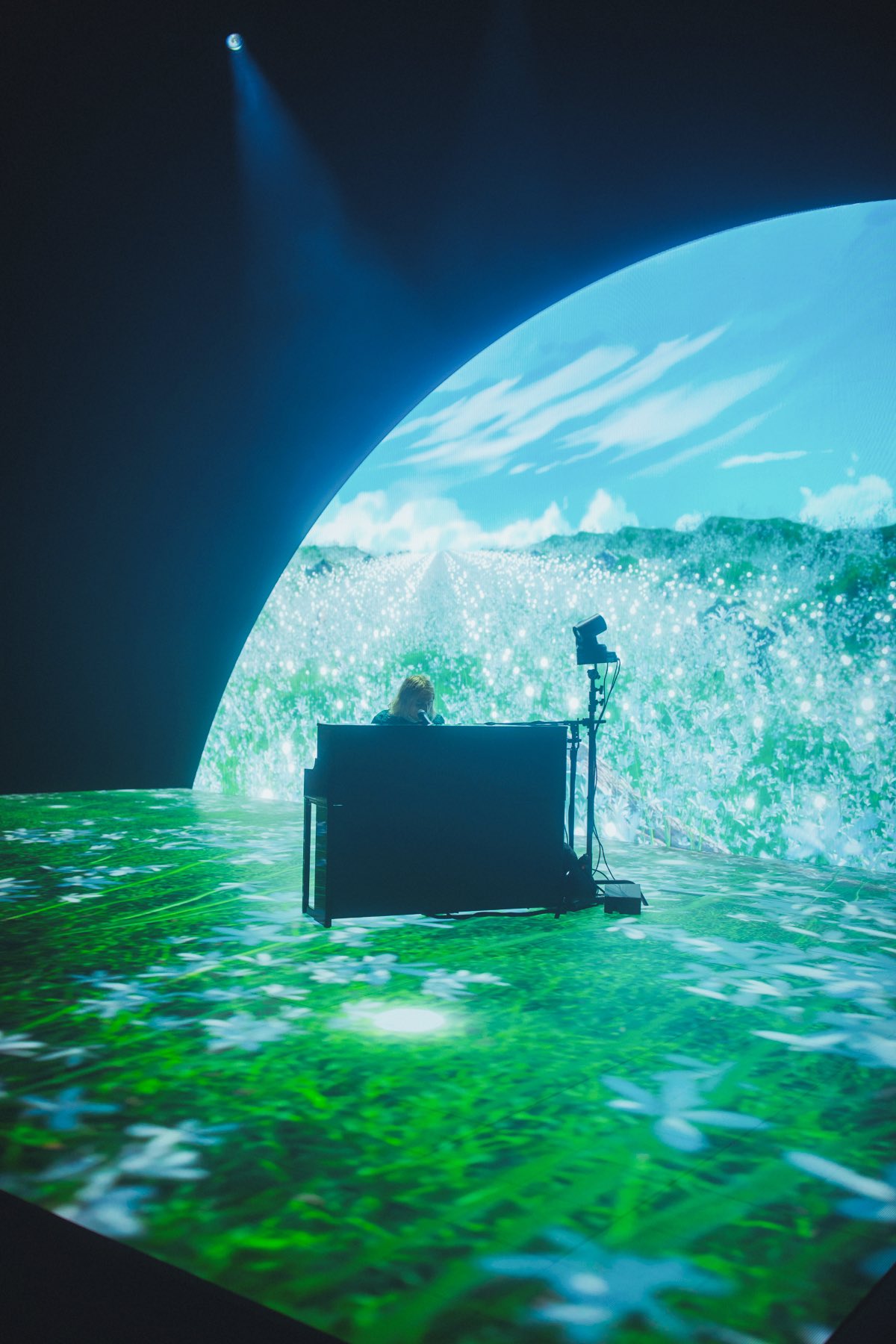 The post Porter Robinson's Second Sky Mesmerizes a Second Time Around appeared first on EDMTunes.
—————————–
By: Katie Steensma
Title: Porter Robinson's Second Sky Mesmerizes a Second Time Around
Sourced From: www.edmtunes.com/2021/09/porter-robinsons-second-sky-mesmerizes-a-second-time-around/?utm_source=rss&utm_medium=rss&utm_campaign=porter-robinsons-second-sky-mesmerizes-a-second-time-around
Published Date: Thu, 30 Sep 2021 23:42:02 +0000
Did you miss our previous article…
https://bonking.com/microsoft-announces-surface-duo-2-a-foldable-phone-loaded-with-new-features/